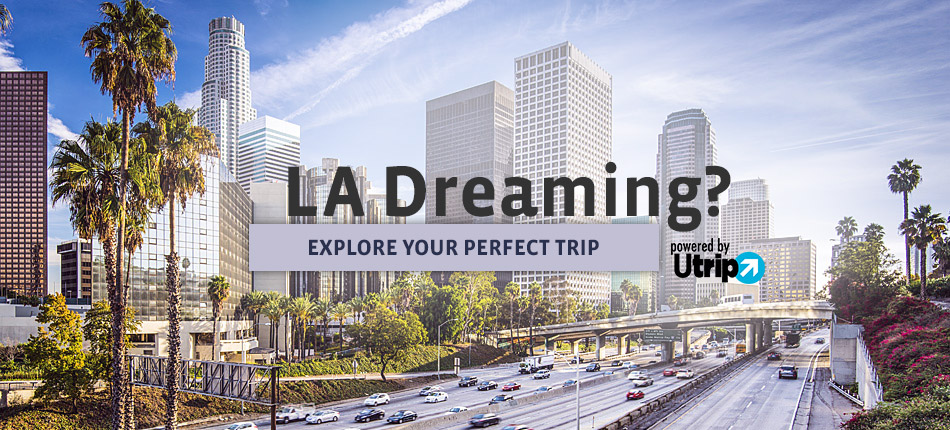 Explore Always Wonderful WeHo
Located on a tree-lined residential street in WeHo, between the Sunset Strip and Santa Monica Boulevard, the Chamberlain West Hollywood provides an ideal starting point for exploring Los Angeles. The city's top attractions are within minutes of our hotel, including Rodeo Drive, the Grove and the Los Angeles Museum of Contemporary Art.
The Chamberlain affords easy access to all West Hollywood has to offer. Shop your way down Melrose Avenue, find your favorite star on the legendary Walk of Fame or listen to the Los Angeles Philharmonic at the Hollywood Bowl for an unforgettable summer night.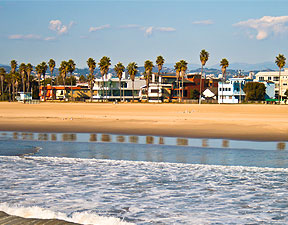 Attractions & Recreation
Universal Studios
Hollywood's legendary movie studio, Universal Studios features a theme park perfect for every age with rides including the Adventures of Curious George, the Universal House of Horrors and Transformers: The Ride among others. Don't forget to check out the brand new Harry Potter World schedule to open in April 2016! 100 Universal City Plaza, Universal City. Visit the Universal website
5.8 miles

Plan Your Trip
Bikes and Hikes LA
Bikes and Hikes is a full-service bike/hike tour company promoting a fun and eco-friendly way to experience the city. They provide both the bikes and equipment as well as expert local guides with to give visitor's an insider's tour, stopping hidden gems for the authentic LA experience you wouldn't get anywhere else. As a Chamberlain guest, Bikes and Hikes is offering 10% off! To book LA in a day, click here. To book a Hollywood Hills Hike, click here.
0.4 miles
Gallery Row
The art gallery district in Los Angeles along Main Street and Spring Street offers a wide array of art galleries, theatres and restaurants. Every second Thursday of the month, there is a Downtown Art Walk tour of the art exhibition venues including the commercial art galleries, public museums and non-profit arts scenes. 453 S Spring St, Los Angeles, CA 90013. Visit the Gallery Row website
10.3 miles away
Getty Center
Situated in the Santa Monica Mountains, the $1.3-billion Getty Center is famous for its architecture, gardens and stunning Los Angeles views. The center was designed by renowned architect Richard Meier and houses a collection of Roman, Greek and Etruscan artwork and artifacts and one-of-a-kind exhibits as well as a large collection of art including pieces by Monet, Van Gogh and Cezanne. 1200 Getty Center Dr, Los Angeles. Visit the Getty Center website
8.9 miles away
Hollywood Bowl
The summer home of the Los Angeles Philharmonic, this modern amphitheater hosts numerous concerts and events. 2301 N Highland Ave., Los Angeles. Visit the Hollywood Bowl website
3.8 miles
Los Angeles County Museum of Art
LACMA features spectacular modern art and Latin American art collections including works by Koons, Rivera, Warhol, Picasso and Kandinsky. Be sure to check out the Red Building, the most dynamic of the three buildings. 5905 Wilshire Blvd., Los Angeles. Visit the LACMA website
9.9 miles
Museum of Contemporary Art
MOCA of Los Angeles has three main branches: Grand Avenue, Little Tokyo and the Pacific Design Center. The exhibits consist mainly of American and European contemporary art including works by Rothko, Lichtenstein and other illustrious names in art history. 250 S Grand Ave., Los Angeles. Visit the MOCA website
9.6 miles

Plan Your Trip
Pacific Design Center
Sometimes described as the "Blue Whale" for its peculiar characteristics, the Pacific Design Center is the West Coast's leading resource for the interior design trades. Showcasing a 1.2 million-square-foot campus on 14 acres, the Center is a premier, multi-use facility featuring the MOCA Pacific Design Center, two Wolfgang Puck restaurants, the Design Café, the Michael Graves-designed Pacific Design Fitness Center, the SilverScreen Theater and the Blue Conference Center. 8687 Melrose Ave., West Hollywood. Visit the website.
1.2 miles

Plan Your Trip
Sunset Strip
A landmark in rock'n roll history, the Sunset Strip features a premier selection of restaurants, boutiques and legendary Hollywood nightclubs and bars including the Viper Room, Whisky a Go Go and the House of Blues.
0.6 miles
Disneyland
The perfect destination for a fun-filled day, Disneyland is located in Anaheim, less than an hour away from the hotel. Stroll through Main Street USA, visit Adventureland or take a ride in Fantasyland. Disneyland has something for everyone. 1313 Disneyland Drive, Anaheim, CA 92802. Visit the Disneyland website
35.6 miles away
Venice Beach
Venice Beach offers a day full of eclectic outdoor fun. Walk around the unique Venice Beach Boardwalk, shop at the famous Abbot Kinney Specialty Shops or stroll along the Venice Canals and discover LA's most eclectic architecture from cozy cottages to modern homes.
12.8 miles
West Hollywood Design Center
This trendy West Hollywood district boasts a diverse array of shops, galleries and restaurants, and bustles with year-round activities including free gallery walks, charity events, artist receptions and more. 8687 Melrose Ave., Ste. M-38, West Hollywood
0.8 miles
Los Angeles Zoo
The zoo is home to more than 1,100 mammals, birds, amphibians and reptiles representing more than 250 different species, of which 29 are endangered. In addition, the Zoo's botanical collection offers several planted gardens and over 800 different plant species with over 7,400 individual plants.
5333 Zoo Drive, Los Angeles, CA 90027
10.5 miles
Staples Center
Home to LA Clippers and the Lakers as well as the NHL team the Kings, the Staples Center also hosts some of LA's best concerts. It also houses The Grammy's, televised WWE events and much, much more!
1111 S Figueroa St, Los Angeles, CA 90015
10.2 miles
Natural History Museum
Open yourself to discovery at the Natural History Museum! See dinosaurs in the Dinosaur Hall, including the world's only Tyrannosaurus rex growth series. Stroll through their extensive Nature Gardens, see and touch more than 2,000 spectacular specimens displayed in the Gem and Mineral Hall, or check out the Butterfly Pavilion, with over 30 species of fluttering butterflies all around you.
900 Exposition Boulevard, Los Angeles, CA 90007
10.6 miles
Broad Museum
The Broad is a new contemporary art museum, featuring two floors of gallery space to showcase The Broad's comprehensive collection. It's also the headquarters of The Broad Art Foundation's worldwide lending library. General admission to The Broad is free, with compelling, challenging and amazing displays and installations.
221 South Grand Avenue, Los Angeles, CA 90012
8.9 miles
Petersen Automotive Museum
The Petersen Automotive Museum is dedicated to the exploration and presentation of the automobile and its impact on American life and culture. With more than 300,000 square feet, its exhibits feature more than 150 rare and classic cars, trucks and motorcycles. The second floor boasts state-of-the-art displays of race cars, classic cars, vintage motorcycles, movie cars and more.
6060 Wilshire Boulevard, Los Angeles, CA 90036
3 miles
Santa Monica Pier
This busy old-school wooden wharf is the place to be, with it's unique eateries and shops, arcade, roller coaster, and of course, the giant Ferris wheel and famous 1922 merry-go-round. If that's not enough for you, there's also the fantastic views of both the bay and the mountains.
200 Santa Monica Pier, Santa Monica, CA 90401
11.3 miles
Dodger Stadium
Home of the LA Dodgers baseball team, Dodger Stadium has a rich history that places it among the truly great venues in sports history. Along with incredible concerts and unique events such as motorcycle racing and monster truck rallies, Dodger Stadium is also among the great entertainment destinations in the country.
1000 Elysian Park Ave, Los Angeles, CA 90012
8.5 miles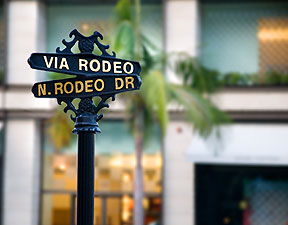 Shopping & Entertainment
Melrose Avenue
A premier shopping, dining and entertainment destination that gained popularity in the early 80s for its independent retailers and restaurants. Starting on Santa Monica Boulevard and ending at Lucille Avenue in Silver Lake, Melrose Avenue offers numerous antique shops, eclectic boutiques and salons. Visit website
1.9 miles
Rodeo Drive
The legendary shopping district in Beverly Hills is famous for its trendy designer boutiques such as Dolce & Gabbana, Dior, Harry Winston, Tiffany & Co., Chanel, David Yurman and more. An afternoon of luxury shopping is well paired with dining at one of Rodeo's star-lit restaurants including Villa Blanca and 208 Rodeo Restaurant. Visit the website
2.8 miles
The Beverly Center
A premier West Hollywood shopping destination with more than 160 diverse boutiques including Ferragamo, Henri Bendel, Tiffany & Co., Louis Vuitton and more, The Beverly Center is on the edge of West Hollywood and Beverly Hills. 8500 Beverly Blvd. #501, Los Angeles, CA 90048. Visit website
1.2 miles
The Grove at Farmers Market
Trolley along The Grove and enjoy a day filled with shopping and entertainment featuring Nordstrom, Abercrombie & Fitch and Crate & Barrel, as well as the magical WET fountain shows and the Art Deco Pacific Movie Theatre. You can also watch Extra being shot on location with Mario Lopez daily! 6301 West 3rd St., Los Angeles, CA 90036. Visit website
2.5 miles
Exposition Park
Find exciting Los Angeles outdoor activities in Exposition Park. Originally a Farmers Market, this picturesque park now features cultural and recreational centers and a charming seven-acre rose garden. 701 State Dr., Los Angeles, CA 90037. Visit website
11 miles
Griffith Park
Griffith Park is idyllically situated in more than 40,000 acres in the Santa Monica Mountains and includes numerous museums and attractions. Visit the LA Zoo, explore the famous Bronson caves, enjoy a pony ride or hike through the scenic trails and breathe in some fresh California air. 4730 Crystal Springs Dr., Los Angeles, CA 90027. Visit website
10.4 miles
La Cienega Tennis Center
Recipient of the U.S. Tennis Association's Outstanding Public Facility Award, the Center offers 16 well-lit professional tennis courts, private and group instruction, a complete pro shop and lounge, shower and dressing facilities, and an outdoor viewing deck. Reservations are required. 325 S La Cienega Blvd., Beverly Hills, CA 90211.
2.2 miles
Pan Pacific Park
Located in the center of the Fairfax District, the spacious Pan Pacific Park features a scenic jogging path, a children's playground, barbeque pits, picnic tables, a baseball diamond and basketball courts. 7600 Beverly Blvd., Los Angeles, CA 90036. Visit website
2.6 miles
Rancho Golf Courses at Cheviot Hills
Home to the 3-par, 9-hole Rancho Golf Course and the 18-hole Rancho Golf Course, the Cheviot Hills public park features first-come, first-serve play for a nominal fee. Club and cart rentals are available. 10460 W Pico Blvd., Los Angeles, CA 90064. Visit website
2.4 miles
Runyon Canyon Park
Runyon Canyon Park is a scenic oasis in the middle of the Hollywood Hills. Tucked just a short distance north of the main drag of Hollywood Boulevard, the park offers hiking, wildlife watching and a rich history including Native American settlements and celebrity sightings. 2001 N Fuller Ave., Los Angeles, CA 90046. Visit website
Topanga State Park
Ideally located only 20 minutes outside of LA in the cliffs and canyons of the Santa Monica Mountains, the park includes 36 miles of trails through pure nature surrounded by oaks, grassland and breathtaking Pacific views. 20829 Entrada Rd., Santa Monica, CA 90290. Visit website
22.5 miles
Zuma Beach
The widest sandy beach in Malibu and one of the best Los Angeles beaches overall, Zuma Beach is noted for surfing, body boarding, clean sand and relative privacy from the Pacific Coast Highway. The beach offers on-site volleyball courts, snack bars, playground and restrooms. 30050 Pacific Coast Hwy., Malibu, CA 90265. Visit website
32.4 miles
Greek Theater
One of the most intimate big-name concert venues Los Angeles has to offer. An outdoor amphitheater nestled into a hillside and surrounded by trees. With amazing acoustics and a unique ambience, it's a great place to get up-close and personal with some of your favorite musicians.
2700 North Vermont Avenue, Los Angeles, CA 90027
7.1 miles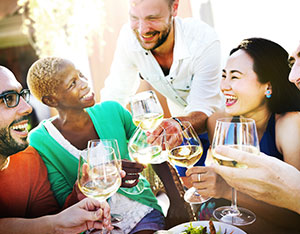 Restaurants
Rockwell Table and Stage
is dinner and a show like you've never seen before. Not just delicious cocktails and fabulous food, but also a 360-degree live theatrical concert and dining experience, with performances by stars of stage, record and screen. Indulge in a goat-cheese and truffle ravioli while watching everything from a typical concert to a burlesque show to a full-scale production of "Clueless."
The Last Breakfast Club: Musical Parody May 18, 2017 - Jul 22, 2017
Visit website
1714 North Vermont Avenue, Los Angeles, CA 90027
5.9 miles away
Maia
The perfect place for sushi and more, this trendy dinner spot boasts a delicious, fresh take on sushi, amazing service, and a cute outdoor patio to boot! We recommend the crazy good carrot-bean hummus as an appetizer and the perfectly spicy Ghost Writer cocktail. Visit website
8768 Sunset Boulevard, West Hollywood, CA 90069
0.3 miles away
Lucques
One of the highest-rated restaurants in the area, with its renowned, award-winning chef and restaurateur, Suzanne Goin. With their incredible open-air garden room, any meal there, whether it's a casual brunch or an elegant dinner, becomes an experience to remember! Visit website
8474 Melrose Avenue, West Hollywood, CA 90069
1 mile away
Katana
A restaurant with an exceptionally beautiful, award-winning interior, but it's more than just a pretty face, specializing in Robata, a form of Japanese tapas, traditional sushi, and a variety of unique and delicious Japanese cuisine. A favorite spot for celebrities, have some Kurobuta Ribs and rub elbows with the stars. Visit website
8439 Sunset Boulevard, West Hollywood, CA 90069
0.6 miles away
Taste
Emanating a relaxed, cosy and yet upscale vibe, Taste serves up updated American comfort cuisine and is a neighborhood favorite for their friendly atmosphere and fresh takes on everything from dumplings to shrimp and grits.Visit website
8454 Melrose Avenue, West Hollywood, CA 90069
1 mile away
Dan Tana's
A classic Italian restaurant with a retro, Old School feel, Dan Tana's is cozy and has the vibe of a neighborhood bistro mixed with fabulous upscale dining. Try any of their delicious food and cocktails and you'll understand how business has thrived for over fifty years! Visit website
9071 Santa Monica Boulevard, West Hollywood, CA 90069
0.9 miles away
Laurel Hardware
Offering a more laidback style, Laurel Hardware combines sophisticated food with a farm-to-table sensibilities. With incredible cocktails, inculding Smoke and Flowers, a lemongrass & lavender sous-vide with ketel one citroen and activated charcoal lemonade and a special late night menu for Thursday, Friday and Saturday nights, it's the perfect place to start, or end an evening. Visit website
7984 Santa Monica Boulevard, West Hollywood, CA 90046
0.9 miles away
The Little Door
Winner of "Best Romantic Restaurant in LA," The Little Door's atmosphere is a perfect mix of elegant and rustic, and their menu is no different, with organic seasonal ingredients, creatively prepared and impeccably presented. Their expertise is especially highlighted in their speciality cakes, which make any occasion a special one. Visit website
8164 West 3rd Street, Los Angeles, CA 90048
2 miles away
WeHo Bistro
Looking to blend fine Parisian dining with a casual and comfortable atmosphere, WeHo Bistro is a bit of France with a West Hollywood twist, offering up an all-day brunch that includes the best of a French breakfast. Whether you're there for breakfast, lunch or dinner, c'est bon! Visit website
1040 North La Cienega Boulevard, West Hollywood, CA 90069
0.2 miles away
Connie and Ted's
Inspired by the fisherman spirit of New England, Connie and Ted's offers East Coast-style seafood, and the very best selection of oysters around. The ambiance is casual, but the food is first rate, whether you're hungry for a classic lobster roll or the house-smoked mahi mahi. If you can't make up your mind, the Catch of the Day is always a good choice. Visit website
8171 Santa Monica Boulevard, West Hollywood, CA 90046
0.7 miles away
Hugo's
Celebrated as a WeHo institution that pioneered organic, vegetarian and vegan eating before they became trendy, the mission of Hugo's is good food for everyone, and so they offer a variety of alternative options for any diet. With an emphasis on the art of simplicity and so-called "stealthy-healthy" foods, it's delicious meals that you can feel good about. Visit website
8401 Santa Monica Boulevard, Los Angeles, CA 90069
0.4 miles away
Nobu
Nobu Los Angeles was designed by world renowned architect David Rockwell and each of the dining spaces - the main dining room with sushi bar, the atrium, and the terrace - has its own unique character and feel. The bar and lounge has become a local Hollywood hangout and offers a tapas menu designed for a more relaxed dining experience. In addition to Nobu Matsuhisa's signature dishes, Nobu Los Angeles also offers local specials like Wagyu Tacos, Seabass Jalapeño Miso, and Kanpachi Sashimi.
903 North La Cienega Boulevard, Los Angeles, CA 90069
0.4 miles
Please wait until the events load...
Find more great events at Wyndow!
Sign up for our


exclusive offers